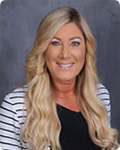 Manager of Claims Administration
Phone: 209-593-3917
Toll-Free: 800-710-1703
FAX: 209-593-3917
amy@gd-ltd.com
About Amy
Amy is a Central California native who joined Global Discoveries in 2005. Amy's skill and dedication earned her the firm's Most Valuable Player Award twice, as well as the Team Spirit Award and the Most Focused on Company Goals Award.
As Amy explains, "I believe in what we do at Global Discoveries. Global Discoveries and the entire staff hold themselves to high ethical and moral standards. We are consistently looking for ways to better the company to ensure we are looking out for their clients' best interests."
While working for Global over the past 10 years, Amy completed her bachelor's degree in Business Management and her master's degree in Business Administration. In her spare moments, Amy enjoys spending time outdoors, gardening, skiing, hiking, and fishing. She also enjoys spending time with her husband, three children, and three dogs.