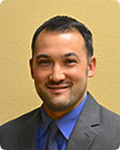 About Kevin
Kevin joined the Global Discoveries team in 2014, bringing over 9 years of information technology experience from the education and background screening sectors.
Kevin grew up in Rhode Island before graduating from the United States Military Academy at West Point where he earned a bachelor's degree in Mechanical Engineering. He then served 10 years as a commissioned officer in the signal branch of the U.S. Army before pursuing a career in software development.
During his time away from the office, Kevin enjoys spending time with his family, playing guitar, and working on his own software development projects.