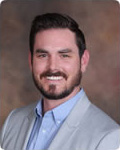 About Nick
Nick came to Global Discoveries after working in the asset recovery industry as an unclaimed property locator since 2010. He has dedicated his career to reuniting private citizens and companies with their rightful property.
Born and raised in Northern California, Nick graduated from high school and attended CSU Fresno as well as Sacramento State playing football. He loves what he does and feels great joy in helping his clients claim what they never knew they had.
In his spare time, he enjoys golf, exercising, following his favorite sports teams and considers Lake Tahoe his favorite place on earth.