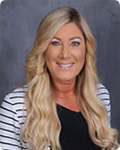 Amy Elmer leads Global Discoveries Lender Services with the industry experience, technical know-how and customer service sophistication that comes with over a decade of experience.
Amy is a Central California native who joined Global Discoveries in 2005. Amy's skill and dedication earned her the firm's Most Valuable Player Award twice, as well as the Team Spirit Award and the Most Focused on Company Goals Award.
As Amy explains, "I believe in what we do at Global Discoveries. Global Discoveries and the entire staff hold themselves to high ethical and moral standards. We are consistently looking for ways to better the company to ensure we are looking out for their clients' best interests."
Amy's educational background has done much to complement her professional pursuits throughout her career. Amy has a bachelor's degree and master's degree in Business Administration.
The breadth and depth of Amy's professional experiences have provided a solid foundation for her current Business Development responsibilities at Global Discoveries, Ltd.